​​​​August 2019
We are now truly in the midst of summer and the festivities continue for the second Savour Summer Festival this year. We're delighted to have Rob Howatson, local resident, writer and storyteller take us on a walking tour of the Fraserlands this month. Join us as he shares the rich history of the area
Ladies Night's will be a night of creative crafting on jewelry making hosted by our very own local resident, Aimee Taylor. And back by popular demand, we will be hosting another Open Terrarium Design Session in August as well. Don't forget to save the dates!
Meanwhile, our Summer Drop-In Kids Crafts continues but will start on August 15th, and has changed to Thursdays and Saturdays.
RIVER DISTRICT EVENTS & PROGRAMS
Join us for upcoming activities at River District.
Kids Summer Drop-In Crafts
This August, we continue our Kids Summer Drop-In Crafts Program with a change in schedule. We'll have a special craft-of-the-day with all the materials ready. All you need are your artistic hands! Children under 10 years of age must be accompanied with a parent or guardian.
Date: Thursdays & Saturdays, starting Aug 15th
Time:1:00 to 4:00pm
Place: Neighbourhood Centre (8683 Kerr St)
RSVP: events@riverdistrict.ca
Click here for more info.
Fraserview's Tides of Time Walking Tour
In 1922 a Scout troop walked all the way from 12th and Oak to a forest that is today the Fraserview golf course. The area was considered so remote that the hike made the newspapers. Today South Vancouver is a seamless extension of the city and it is hard to imagine the rural community that existed here – unless you have the right guide.
Join "South Sloper" Rob Howatson for a stroll along the "Fraser Riviera" and journey back to a time when locals built giant boats in their backyards, converted chicken coops to dance halls and grew prize-winning produce along the fertile banks. Find ou where the old streams are buried and the new buildings are rising. You will never look at this neighbourhood the same way again.
Date:  Sunday, August 18th, 2019
Time: 10:00am to 12:00pm
Place: Neighbourhood Centre (8683 Kerr St)
RSVP: events@riverdistrict.ca
Click here for more info
Ladies Night – Gemstone Jewelry Making
Join local resident Aimee Taylor, owner of Ameli Jewelry as she teaches us how to make our own custom gemstone jewelry. Choose between a set of earrings or a bracelet.
Date: Tuesday August 27th, 2019
Time: 6:30 to 8:30pm
Fee: $10-$15 (earrings), $20 (bracelet)
Place: Neighbourhood Centre (8683 Kerr St.)
RSVP: events@riverdistrict.ca
For more info, click here.
Open Terrarium Design Session
Due to popular demand, we are hosting another session for designing your own open terrarium. This event is open to everyone 13 & up.
Date: Thursday, August 29th, 2019
Time: 6:30-8:30pm
Fee: $20 per person
Place: Neighbourhood Centre (8683 Kerr St.)
RSVP: events@riverdistrict.ca
Click here for more info.



RIVER DISTRICT FLASHBACK
A look back at some of the fun had at River District.
Ladies Night – Field Trip to Save-On-Foods for a Nutrition Tour
Thank you to Priscilla Lau, registered dietitian, for teaching us so many helpful tips for nourishing our bodies. We learned how to read labels correctly, such as comparing similar products by checking their percentage value when serving sizes differ. Save-On-Foods was terrific as they made substitutions for people with dietary restrictions. For example, they showed us substitute products like rice milk instead of almond milk for those with nut and dairy allergies. We thank all our attendees and hope you are well on your way to a healthier lifestyle!
Family Fun Day – Water Gun Painting Session
Our Water Gun Painting Session was a hit with flying colours turning into beautiful works of art. The families had a fun time exploring colour combinations, playing with paint and enjoying the sunny outdoors. Thanks to everyone who came and joined in on the summer fun!
RIVER DISTRICT NEWS

See what's happening at River District.
Booster Juice Now Open
Booster Juice is now open just in time for summer! Boost your daily dose of healthy greens with a smoothie run. You can find them at One Town Centre (3555 Sawmill Crescent), right beside Sushi Mura.
Hours are:
Monday–Friday: 7am–10pm
Saturday: 8am–9am
Sunday: 10am–6pm
For more info on Booster Juice, click here.
River District Physio Now Offers Registered Massage Therapy
Our friendly neighbourhood River District Physio now has bodyworker Emma, and registered massage therapist Shiv, in their roster.
​​​​​​​Time to book those massages!
If you would like more information or book for an appointment, you can call 604-336-9944, email info@riverdistrictpt.ca, or visit them in person at Three Town Centre (3478 Sawmill Crescent).
Fit U Fitness Bootcamp Program Update
Effective August 1st, Thursday 6:30pm sessions are taking a summer break.
Be sure to join the Fit U Fitness team on:
Mondays at 6:00pm
Tuesdays at 6:00am
Thursdays at 6:00am
Please note there is no class on Monday, Aug 5th (BC Day) and Thursday August 29th.
RIVER DISTRICT PROGRAMMING
Come check out the River District Neighbourhood Centre Programs. If you have any programming ideas, let us know!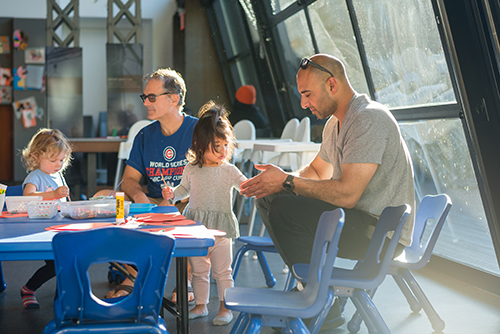 Kids Programs
Summer Drop-In Crafts:
Thu & Sat (starting August 15th)
1:00-4:00pm
Family Place:
Tue/Wed/Thu 9:30am-12:00pm
Adult Programs
Knitting Club:
Aug 4 & 18 ​​​3:00-5:00pm
Ladies Night:
Aug 27th 6:30-8:30pm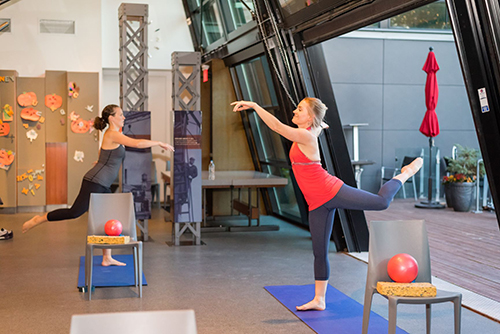 Health & Fitness
Pilates: 
Mon 9:30-10:30am
(No class for the summer,
resumes September 9th)
Bootcamp Circuit: 
Mon 6:00-7:00pm
Tue 6:00-6:45 am
Thu 6:00-6:45 am
(No Thursday 6:00pm classes for August and no class on
Mon Aug 5th 6:00pm &
​​​​​​​Thu Aug 29th 6:00am)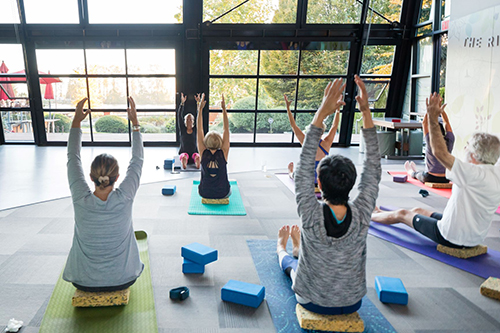 ​Yoga: 
Tue (Chill) 5:00-6:00pm
Thu (Stretch & Strengthen) 5:00-6:00pm
Sat (Foundations) 10-11am 
(No class Saturday, August 31st)
Mindful Mov't: 
Wed 6:00-7:00 pm