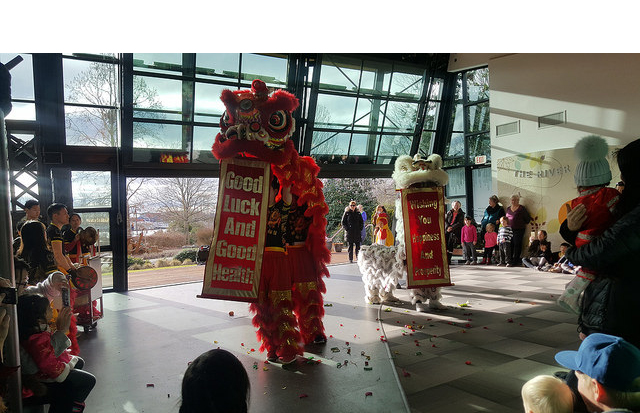 According to the Chinese zodiac, it is the year of the pig. Pigs are a symbol of wealth, and their chubby faces and big ears are also signs of fortune. Join us in welcoming a Chinese New Year of wealth and fortune at River District!
On Saturday, February 2nd we will be celebrating with two traditional Chinese lion dances. One of the lions will be dancing through Town Centre, while the other will be at the Neighbourhood Centre. As part of the lion dance tradition, the lion will be visiting establishments that have left out green lettuce for it to eat. In Chinese, the word for vegetable sounds very similar to the word for wealth. By eating the lettuce that businesses and shops have, the lion is said to bring good luck and fortune for the year.
At the Neighbourhood Centre, we will be handing out lucky red envelopes. You can also try your hand at Chinese calligraphy, with special thanks to Telus. Kids will also be able to make lanterns as part of our Lunar New Year craft.
We will be celebrating on Saturday, February 2nd from 1:00 to 4:00pm at the River District Neighbourhood Centre.